Recollections
Abdus Salam in His Own Words
"I was born in the country town of Jhang, then part of British India, now Pakistan, in 1926. My father was a teacher and educational official in the Department of Education and my mother was a housewife. I had six brothers and one sister. My family was by no means rich. My father took a vast amount of interest in my school work. He had great ambitions for me. I was destined for the Indian Civil Service, entry to which was by competitive examination. However, this was not to be - as events in my life took a different turn." [read the whole story]
(from "One Hundred Reasons to Be a Scientist", ed. by K.R. Sreenivasan, ICTP 2004)
Places
Gifts
Looking Back

More images of Abdus Salam can be found in the ICTP Photo Archive.
Access through the Marie Curie Library
catalogue
.
Nobel Prize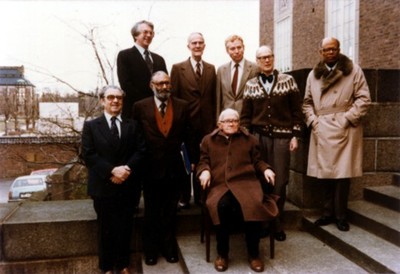 1979 Nobel Prize
winners: (top row, left to right) Sheldon Lee Glashow, Theodor W. Schultz, Steven Weinberg, Allan M. Cormack, Sir Arthur Lewis; (bottom row) Herbert C. Brown, Abdus Salam and Georg Wittig.
(Abdus Salam Archives)
Professor Abdus Salam was married twice, as permitted by the traditional Islamic law. Problems of protocol arose at the Nobel Ceremony when he arrived accompanied by both wives.

He accepted the award from the King of Sweden wearing a Pakistani ceremonial dress made of a white turban, a black achkan (a long jacket), baggy pants and curly toed shoes.

The Nobel Foundation accorded him the courtesy of addressing him in Urdu throughout the ceremony.

Abdus Salam donated the full amount he received from the Nobel Prize to a fund he set up in memory of his parents, Muhammad and Hajira Hussain. After his death, the fund was renamed "The Muhammad Hussain Hajira Hussain Abdus Salam Nobel Talent Fund". The mandate of the fund was to help the brightest and most deserving young pre-university students from schools in the district of Jhang.
Commemorative Stamps
| | | |
| --- | --- | --- |
| Republic of Benin. | Republic of Benin. | Pakistan. |
Short Stories
Published in: The Ravi, Magazine of the Government College, Lahore.


[ICTP intranet only]
Anecdotes
"I am a humble man" was something of a catchphrase for Salam and used whenever anyone tried to make physics explanations more complicated than necessary.
(from "A Layman's Guide to M-Theory", by M. J. Duff)

When Prof Salam was studying in Princeton, New Jersey, one day he met Prof Einstein casually on the campus of Institute for Advanced Study. Einstein asked him what kind of research are you doing? Salam replied, I am working on renormalization theory. Einstein said I am not interested in that. After a few moments Einstein asked have you studied my Relativity theory? Salam replied, I am not interested in that.
(from "Dr. Abdus Salam - Champion of Science in the Third World", by Zakaria Virk)

He had a well developed sense of humour, derived largely from PG Wodehouse, possibly his favourite casual reading author. [...] He also loved the early Charlie Chaplin films, the Buster Keaton, Laurel and Hardy films and all the Marx brothers.
(from "Recollections of My Father", by Ahmad Salam, son of Abdus Salam, in "Salam + 50")

Abdus Salam conducted a very spartan life entirely devoted to work. He went to the city very rarely. His only physical exercise was to climb the hundred steps leading from the courtyard of the Centre to his dwelling.
(from "Thirty Years with Abdus Salam", by A.M. Hamende, in "From a Vision to a System")

Many of the notes of Abdus Salam [...] may be found on all sorts of supports, loose sheets from notebooks, the back of old posters, envelopes and of preprints.
(from "Thirty Years with Abdus Salam", by A.M. Hamende, in "From a Vision to a System")

There wasn't anywhere he would not scribble down some ideas or theories. His mind was always working. There is of course the wonderful story about lunch at Buckingham Palace with the Queen and Prince Philip. After the lunch when her Majesty, the Corgis and all the other guests had left, he popped back into the room to ask if he could have the napkin as he had written some notes on it.
(from "Recollections of My Father", by Ahmad Salam, son of Abdus Salam, in "Salam + 50")